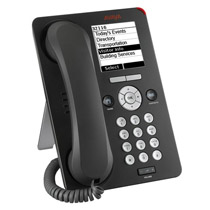 The 9610 IP Telephone features a 3.33-inch diagonal monochrome backlit display, which has been enhanced with higher resolution (1/4 VGA) versus other available monochrome telephones from Avaya.
Avaya 9610 IP Telephones are specifically designed for walk-up use, meaning use in common areas such as lobbies, secondary conference rooms, and printer or copier rooms.
The 9610 is not intended to be associated with an individual user, but rather is associated with a location and will be shared by visitors and building employees. With this in mind, the 9610 interface is simple and intuitive. Extra features and buttons typically required by power users were removed from the 9610 to keep the experience simple and easy for walk-up users. Note – the 9610 does not support hold, transfer, conference.
Through its integrated web browser and backlit display, the 9610 supports productivity enhancing phone applications such as access to building directories, visitor information, news and events. With its dual position flip stand, the 9610 makes a smart-looking addition to any building lobby or visitor area.
With enhanced protection against denial of service attacks and support for 802.1x, as well as improved VLAN separation, the 9610 delivers a high level of security and reliability.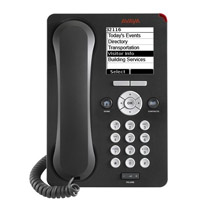 Benefits

 Productivity of Users – The productivity of end users is greatly enhanced through prompting for common telephony tasks, one-touch access to key features, and superior high fidelity audio.


 Richer Communication – The superior audio capabilities make conference calls and meetings more effective by requiring less reiteration. This has been found to reduce employee stress and fatigue.


 Investment Protection – Utilizing open standards, with a modular platform that supports a wide range of modules and adapters, further enhances user productivity.
Features
Intuitive User Interface
The intuitive, context-sensitive interface on the 9610 is designed to facilitate simple and intuitive usage by featuring context-driven menus with on-screen prompts, enabling straightforward access to a welcome menu and contact directory. Building visitors, and other users in common areas, will find the 9610 to be simple and easy to use.
The 9610 enables easy access to features helpful for building visitors. The 9610 and its user interface are designed for use in common areas, versus for an individual user. The 9610 features a display significantly larger than is typically found in a lobby phone. This, along with an embedded web browser and the ability to host phone applications, makes the 9610 a helpful portal of information.
New Design and Display
The 9610 features a higher resolution display supporting 1/4 VGA gray scale with backlighting. A four-way navigation button cluster is another new addition to the 9610. This provides a familiar, cell phone-like interface for navigation and feature selections for the everyday user.
The new design facilitates better usage of the display and the built-in browser to improve access to information and use of telephone features.
Designed for the walkup profile
The 9610 is designed to support the walkup user profile – for use in common areas such as visitor lobbies, break rooms and hallways.  The 9610 is not designed for use on an individuals desk.  It supports a single line appearance with no support for hold, conference, transfer.