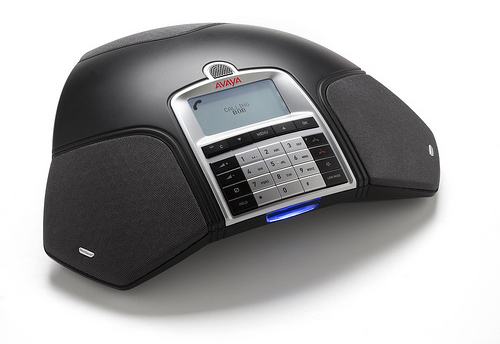 The Avaya B100 Conference Phone provides the convenience and productivity benefits inherent in a powerful, hands-free conference phone. It offers a range of phones suitable for midsize and large conference rooms. B100 Series offer both SIP and Analog connections. Together with the existing Avaya conference phone 1692 (H323) and 2033 (Unistim), Avaya now offers a complete range of conference phones across various protocols and market segments.
Collaborate Better With Productivity Features and Superior Sound
Connect to a telephone line or your IP network and a power supply—it's that simple. Easily deployed on your network, these conference phones are quick to install and compatible with Avaya's flagship collaboration solutions for any size business. Solidly constructed, these phones include intuitive keypads to make accessing features and functions a snap.
Set up and administer conference calls quickly with the built-in conference guide. The conference room phone just got easier to use—and smart enough to deliver true productivity-enhancing features. Users can access web-based applications or the corporate directory to launch calls quickly, and bridge up to five people or locations. Expand to a Bluetooth headset, PA system, or microphone.
Hold regular team calls—save them, and quickly access them again with the touch of a button. Insert an SD memory card in the built-in slot, and record on the fly. Share or archive the call recording to a PC or another device.
Hear every second of the conversation with OmniSound™ audio technology. The 360-degree surround sound and speakers optimize audio pick-up and broadcasting. OmniSound technology produces pure high-definition sound. Full duplex operation allows sound to be transmitted and received simultaneously to prevent audio clipping for frustration-free collaboration.
Ensure high quality sound with 360-degree OnmiDirectional microphones that cover up to 750 square feet. Add more for bigger rooms or for more participants. Expand to a Bluetooth headset for a speaker, or use a PA system for a large group. Advanced suppression filters virtually eliminate background noise, and a built-in equalizer lets you easily adjust sound quality to your preference.