The Plantronics CS55 wireless headset system combines the clarity of traditional corded technology with the mobility of wireless, so employees can move around the office to wherever business takes them without interrupting or missing a call.
Continuing our tradition as a technology leader, Plantronics presents CS55 as the first headset in the United States to implement 1.9GHz UPCS voice-dedicated wireless technology. With the included Plantronics HL10 handset lifter, remotely taking or ending a call is as simple as pressing a button. Includes the Plantronics HL10 handset lifter for remote call answer/end capability
HL10 Lifter:HL10 handset lifter fits on your telephone, letting you answer calls with the touch of a button, conveniently and automatically takes your handset off hook.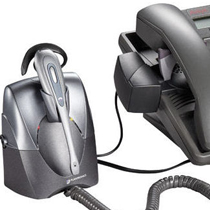 Features:

 Roam hands-free up to 300 feet


 Extended hands-free talk time up to 10 full hours


 One-touch control over calls and volume


 Enjoy the flexibility of three convertible styles


 Ensure call privacy with digitally encrypted security


 Reduce the wait: battery recharges in three hours