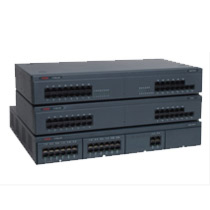 IP Office is a highly modular IP telephone system designed to meet the needs of home offices, standalone businesses, and networked branch and head offices for small and medium enterprises. The award-winning IP Office gives growing companies a complete solution for telephony, messaging, networking, conferencing, customer management, and unified communications.
IP Office is a versatile communications solution that combines the reliability and ease of a traditional telephony system with the applications and advantages of an IP telephony solution. This converged communications solution can help businesses reduce costs, increase productivity, and improve customer service.
At Avaya, our guiding principle is that customers should be supported in migrating to IP telephony at their own pace, following their own path. Our clients can use a mix of digital, analog, and IP technology and still take advantage of all the applications that convergence provides.
IP Office addresses basic telephony needs, leverages built-in convergence capabilities, and capitalizes on robust unified applications to deliver intelligent communications to your users and customers. This small business IP phone system simplifies processes, and streamlines the information exchange within systems to create simple and effective communication experiences.
The IP Office phone system supports a wide range of telephones, but the Avaya 5400 Series Digital phones and 5600 Series IP phones have been specifically designed to work with IP Office and provide small and medium enterprises with a choice of solutions to meet business efficiency and customer service requirements.
What's New With This Release
IP Office Release 9.0 software makes it easy for small and midsize businesses to improve communications and operations using Unified Communications.
Release 9.0 offers Avaya one-X Mobile Client for Small Business and Mobile Call Control, designed to give traveling employees the same robust communications capabilities available in the office.
The new Unified Messaging Service offers synchronization and efficient management of voicemail messages through web browser interface.
To accommodate the growing demand for more announcements for on-hold callers, customized by department and within organizations, IP Office 9.0 supports 4 Message-On-Hold sources.
Business Benefits


 Functions as a traditional phone system or an IP telephony server.


 Supports both single locations and multi-site networks.


 Includes both basic call center and voice messaging capabilities.


 Scales up as business needs grow.


 Protects current investments in communications.


 Includes integrated Web manager, a Web-based tool that allows the customer or partner to manage multiple sites.


 New voicemail licensing enhancements, meanwhile, provide support for voicemail across both primary and secondary sites.


 There is also mobile and remote twinning, a feature added by demand that enables twinning to be used in a multisite deployment.


 VoIP support for One-X Mobile Preferred provides VoIP-based communication from Avaya's mobile applications across WiFi and 3G/4G.


 Remote Call Admission Control is a new feature that "allows support for call admission to a remote site that does not have an IP Office system to manage bandwidth into remote sites".