MyGica – Take Control of your TV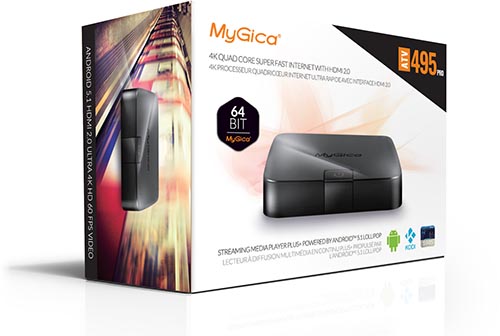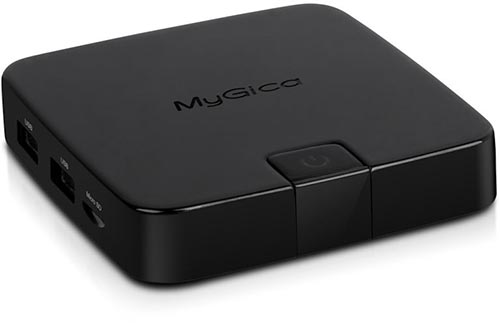 MyGica ATV-495PRO Android 5.1 TV Box
Don't be fooled by the diminutive size of the ATV 495PRO. With serious upgrades in our small form factor Android box, MyGica succeeds in achieving the next level of excellence. A look inside reveals top of class components that doubles the view-able number of 4K frames per second, the latest advances in ac WiFi technology, 10-bit hardware decoding and more…
Specifications:
Operating System : Android™ 5.1 Lollipop
System Processor : Quad-core 64-bit ARM® Cortex™-A53 up to 2GHz
Graphics Processor : Penta-core ARM® Mali™-450Video
Resolution : 4K(60fps), 2K, 1080p (60fps), 1080i, 720p, 720i, 576p, 576i, 486p, 486i
Video Playback Codec : MPEG 1/2/4,H.265,H.264,VC-1, WMV, AVI, MKV, MOV
System Memory : 2 GB DDR3 RAM
Internal Media Storage : 16 GB eMMC embedded MultiMediaCard
Video Interface : 1 x HDMI 2.0 (HDCP 2.2)
Alternate Audio Video Interface : Mini RCA Composite Video & Stereo Audio
Bluetooth : Bluetooth 4.0
WiFi : 802.11ac 5.0 GHz Dual Band / 802.11b/g/n 2.4GHz
Ethernet Interface : RJ45 10/100 Megabits
USB Support : 2 x USB 2.0 Ports Max USB HDD Support is 2TB
Micro SD Card : 1 Slot Max 128GB
Pre Installed Apps : Kodi™ Media Center, Chrome™ Browser, Netflix, Facebook, YouTube and More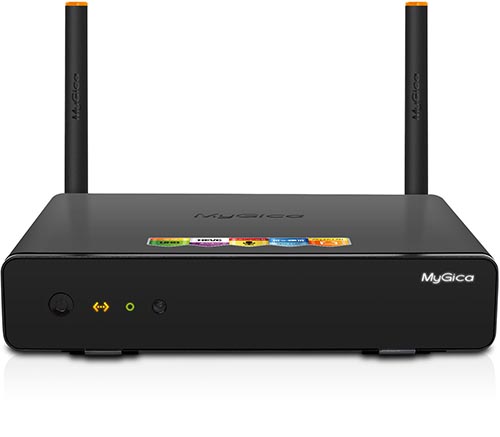 MyGica ATV-1900PRO Android 5.1 TV Box
The MyGica ATV 1900PRO is our next generation Powered by Android™ TV box. With ample process-ing power to stream 4K video we made sure you have the bandwidth to support your Ultra HD TV experience by providing a quantum leap in band-width. Connect to the internet with your choice of built in 802.11ac WiFi or 100/1000 Megabit Internet Adapter. With the new features of Android™ 5.1 Lollipop such as powerful and fun voice recognition, you can use your voice on apps or Chrome to do things like search, get directions, and create reminders.
Specifications
Operating System : Android™ 5.1 Lollipop
System Processor : Quad-core 64-bit ARM® Cortex™-A53 up to 2GHz
Graphics Processor : Penta-core ARM® Mali™-450
Video Resolution : 4K (60fps), 2K, 1080p (60fps), 1080i, 720p, 720i, 576p, 576i, 486p, 486i
Video Playback Codec : MPEG 1/2/4, H.265, H.264, VC1, WMV, AVI, MKV, MOV
System Memory : 2 GB DDR3 RAM
Internal Media Storage : 16 GB eMMC embedded MultiMediaCard
Video Interface : 1 x HDMI 2.0 (HDCP 2.2)
Audio Interface : S/PDIF Optical Port
Voice : Supports Voice Search & Voice Recognition
Bluetooth : Bluetooth 4.0WiFi : 802.11ac 5.0 GHz Dual Band / 802.11b/g/n 2.4GHz
Ethernet Interface : RJ45 100/1000 Megabits
USB Support : 4 x USB 2.0 Ports Max USB HDD Support is 2TB
Micro SD Card : 1 Slot Max 128GB
HD Interface : Supports Internal 2.5″ SATA HD up to 2 TB
Pre Installed Apps : Kodi™ Media Center, Chrome™ Browser, Netflix, Facebook, YouTube, and MorePackage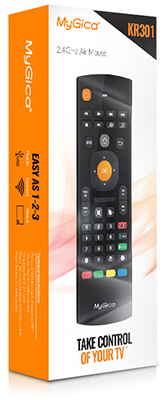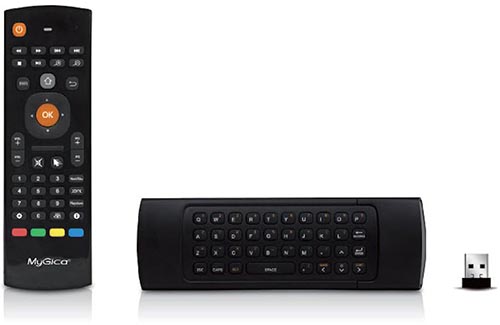 MyGica KR-301
MyGica Smart Remote KR301 QWERTY Remote Control with Motion Mouse The ergonomic design of the MyGica KR301 means that the device fits comfortably into your hand, whether holding horizontally or vertically, and the built-in keyboard is designed to enable efficient typing, for chatting on Facebook, sending emails or writing full page documents. Fast & Precise Full Motion remote is similar to Nintendo Wii remote control and its Plug N Play easy to use. MyGica KR301 combination IR and wireless RF remote/keyboard design for MyGica 120, 400, 520, 580, 582,585, 1200, 1800. Also operates other Geniatech manufactured Android boxes (e.g. Pivos / Jynxbox). MyGica KR301 has the following advantages over other Wireless Remotes: More sensors giving precise positing IR & Wiress RF capabilities Ability to turn on/off MyGica Android boxes Custom Shortcut buttons for XBMC/Kodi, Google Playstore, Netflix Ability to Turn ON & OFF the mouse function
Key Features
Smart TV system
Set-top-boxes for Digital and IPTV
Notebook / PC
Home entertainment system
Game Devices
Video Conference Equipments
Portable Navigation Devices
Man Machine Interfaces (MMI, UI )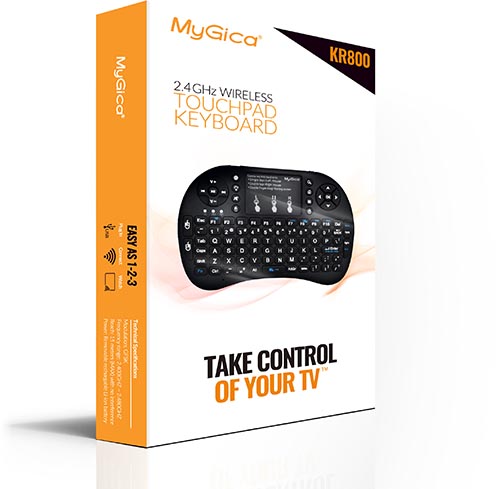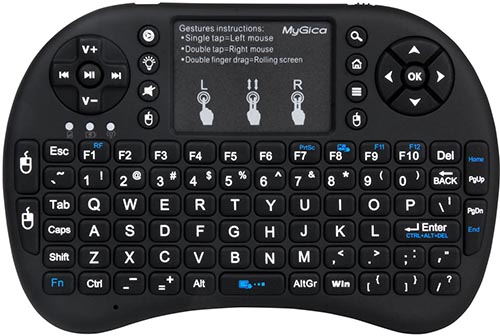 MyGica KR-800
Now featuring our newest Remote to the family. The KR-800 is born from the demands of our loyal and growing customers searching for an alternative to conventional Air Mouse Technology. Our new addition boasts Touch Pad Technology, allowing you to use your finger(s) to control where your mouse appears on your TV, once you've connected the KR-800 remote to your TV Box, via RF USB chip (included). KR-800 also features Back-light — for those watching their favorites in the dark. Need to search for a new title? No more having to get up to turn the light on, or moving closer to your TV's light to see the keyboard! Just use KR-800 as you normally would and enjoy Back light's Auto Light feature that illuminates all keys on your KR-800 Remote! Enjoy being comfortable.
Key Features
Wireless QWERTY Keyboard
Touch Pad feature for Air Mouse
Backlit keys for simple use in darkness
Attractive and Comfortable design
Radio Frequencyt (RF) Technology