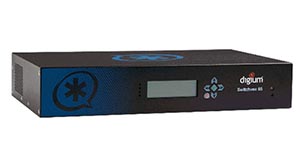 Switchvox, designed for small to mid-sized businesses, is the most widely used communications system based on Asterisk, the open source project headed by Digium and strengthened by the contributions of hundreds of developers around the world.
Switchvox SMB 4.5 introduces features and enhancements that larger companies require and the AA65 Switchvox Appliance was designed specifically with the needs of small business in mind, highlighting the expanding market for the Switchvox product line.
Switchvox IP PBX products deliver the advanced functions typically associated with expensive, proprietary systems, but also provide unique, innovative features that bridge the gap between the business phone system and the power of Web 2.0. Integration with leading CRM applications Salesforce.com and SugarCRM as well as Google Maps is included through Switchvox SMB's Switchboard interface, and customers can easily create custom mashups that leverage other Web applications in seconds, with no programming knowledge required.

Highlights of Switchvox SMB 4.5 include:
Integrated phone management Streamlined phone configuration without the need to manually enter the network address of each phone saves the system administrator or integrator time. Switchvox automatically finds phones and allows their extensions to be specified through the Switchvox interface or through the phone.
Multi-level administration Increases system security by giving some administrators access only to chosen areas of the phone system.
Batch direct inward dial (DID) mapping Allows administrators to quickly map all of the company's extensions to direct dial numbers rather than keying them into the IP PBX one at a time.
Batch caller ID configuration Lets administrators specify per extension outbound caller ID for all extensions with one simple setting.
Enhanced phonebook panel Users can add multiple extensions at once to their personalized Switchboard phonebook, saving time during setup for employees of larger companies.
Type to find extensions Administrators can start typing an individual's name and a search feature quickly finds the extension. This makes it much faster to navigate larger phone systems with many extensions.
The new AA65 Switchvox Appliance replaces the tower server for both SOHO and SMB products. The AA65 offers:
Small form factor It weighs about 10 lbs. and can be mounted on a wall to save space.
Increased reliability A one-year warranty comes standard; a three-year warranty is optional.
Full coverage by the Digium Exceptional Satisfaction Program The strongest guarantee in open source telephony gives customers their money back if the product is defective or fails to perform as described.
VoIP ready No extra hardware is necessary to connect to SIP or IAX voice over IP trunks.
Support for PSTN connectivity Support for one to eight analog ports or a T1/E1 line gives customers greater flexibility in working with their existing network.